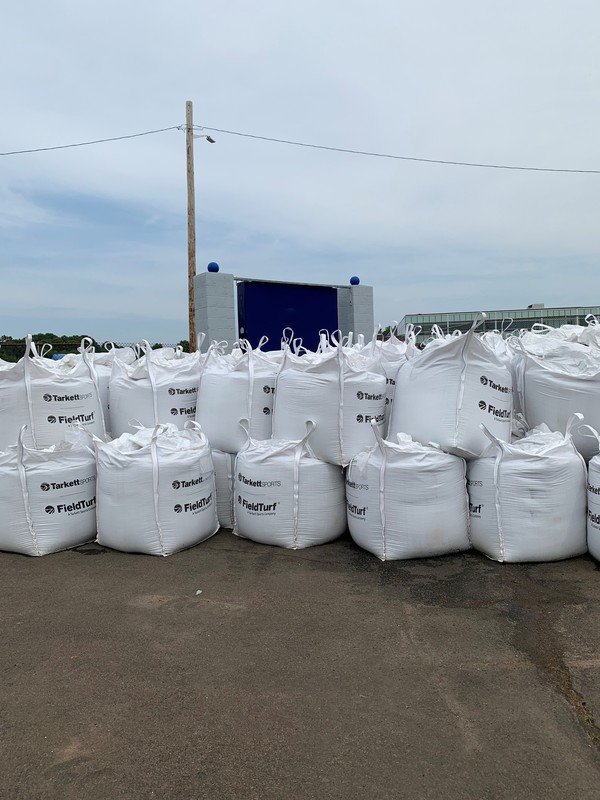 WEST HAVEN, Conn. – FieldTurf, a world leader in artificial turf, is enhancing Ken Strong Stadium and the Frank Biondi Softball Field this week by replacing the fields and track while recycling the old material. This project puts West Haven High School as the first school in Connecticut, and just one of the first 10 in the entire country, to have FieldTurf recycle its old field.
"We are excited to partner with West Haven to provide them with a safe and attractive facility, while also maximizing our recycling efforts by being the first field in Connecticut to be sent to our internal recycling center instead of adding to a landfill," said Andrew Dyjak, Regional Vice President New England.
The project encompasses replacing the synthetic turf field at Ken Strong Stadium, a new track, and a natural grass-to-turf conversion on the softball field. The old fields are net-zero carbon emissions, so everything gets recycled.
In some turf-replacement projects, the carpet and InFill would be tossed in a dumpster or landfill, but FieldTurf instead used large white bags to put all recycled materials in, which are then shipped out for recycling. Additionally, the rolled-up carpets and InFill were loaded onto a truck to bring to FieldTurf's newest facility in Wilkes-Barre, Pa.
At the facility, which is the largest of its two plants, FieldTurf will separate the InFill from the carpet. During this process, the InFill is separated and cleaned into separate sand and rubber, and is repurposed for other projects. The carpet, meanwhile, gets shipped to one of FieldTurf's partners that makes plastic wood composites.