Mike Barraco
About: I am a certified Career and Technology Education teacher as well as a certified science teacher. I currently teach Civil Engineering and Architecture, Introduction to Engineering Design, Cybersecurity and this year I am teaching Astronomy as well. I am the advisor for the Vex Robotics Club and the coach for the West Haven High School Girls Tennis Team. I have been teaching for 10 years, all of which have been here at West Haven High School.
Hobbies: Some hobbies include carpentry, renovating old homes, playing tennis, hiking, running, golfing, investing, boating, and trips to the beach with my wife and kids.
Fun Facts: Most of my family is from Sicily, Italy; I grew up in North Haven; I graduated from Penn State with a degree in Mineral Engineering; I hiked to the bottom of the Grand Canyon once; My favorite places to vacation are Cape Cod and Newport, RI; Favorite sports team is the NY Mets; Favorite movies are Twister and Interstellar; Favorite thing to eat is sushi and lobster; I'm an Eagle Scout; If I could own any car, it would be a Lamborghini Aventador.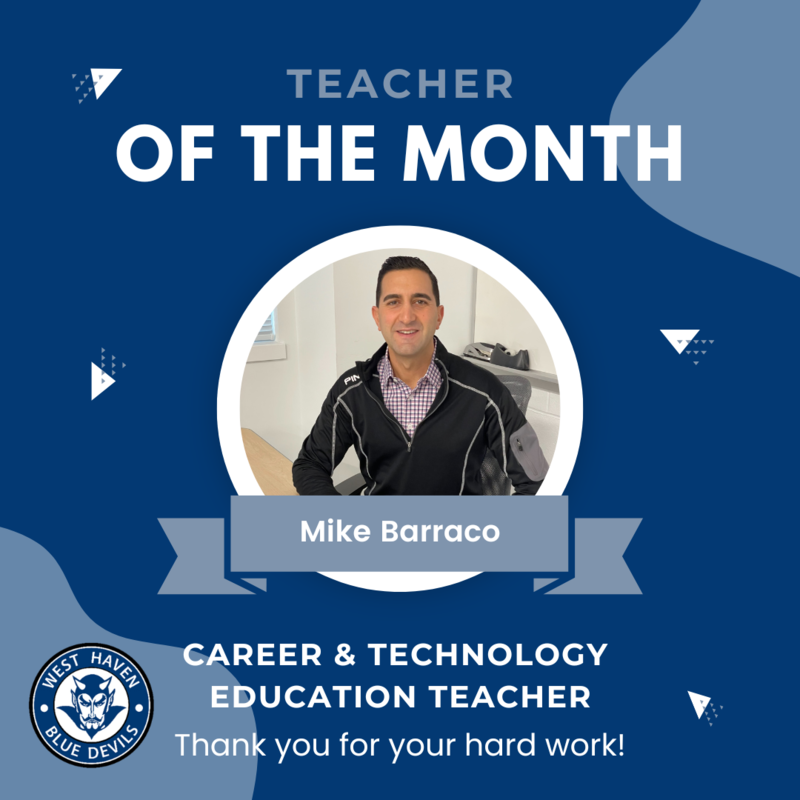 ---
Tracy Stratton
About: I am the Theatre teacher here at WHHS, so I teach Acting, Advanced Acting, Children's Theatre, Intro to Stagecraft, and Movies That Matter. I also direct the fall plays and the spring musicals. This is my 12th year teaching, all in West Haven. It is my second year at WHHS and before that, I taught at Carrigan for 7 years, where I helped run the drama club, and I was at Forest for 3 years before that. I have taught grades, 1, 3, 5, 6, and High School.
Hobbies: I love to perform in plays and musicals, and go on adventures with my husband and my 14-month-old son to Walt Disney World.
Fun Facts: I love the Big E, I'm a professional makeup artist with Dior, purple highlighters are my favorite, I can juggle scarves, I sometimes teach in a British accent, and I was an amateur magician when I was younger.